ESL Placement
The decision making of what level to place students into doesn't need to be a complex issue. There are different ways of doing this depending on how much time you have to complete the placement. If the course was short, you would want to do the assessment quickly but for a longer course you might take more time. The placement will also depend on the ability level of other students.
The four macro skills are: reading, writing, speaking and listening. Students will normally be better at some of these skills than they are at the other skills. It is my opinion that adults will learn new language skills while children will acquire them. That is, adults think about it while children just do it! Therefore, I tend to check out adults' ability levels by a set of short questions, whereas, I merely observe children using a table for each of the macro skills and then determine their ability level.
The ability levels for children
Beginner (Band Level 1&2)
Elementary (Post Beginner) (Band Level 3&4)
Intermediate (Band Level 5&6)
Advanced (Band Level 7)
*****************************************************
Sequence for Introducing Grammar to Adults
Once adult students have taken a simple placement test, like the one to the right, the sequence below will help the teacher know when to move them to the next level. Each teacher will have his own method of promoting the sequence along. On my lesson plan's page, you can click on the sample lesson plan and sample syllabus to see my way of doing things.
Lessons will be taught with a variety of resources provided by the teacher. Below, is the learning expectation for each level. Once completed, the student will move on to the next level.
*****************************************************
Beginner (adults 15 years +)
Reading, Writing, Speaking and Listening at the beginner level.
SEQUENCE FOR INTRODUCING THE GRAMMAR OF BEGINNER ENGLISH:
I. THE VERB "TO BE"
(Topics for visible, countable objects in the room. Student can (1) identify objects, (2) describe the colour and size.)
A . Statements
Identification: This is a book.
Description: The book is red.
Location: The book is on the table.
B.Yes-No Questions
Invert subject and verb: Is this a book?
"It" as subject pronoun: Yes, it is.
C.Negatives
1."Not"- This is not a book
2. Contractions: This isn't a book.
D. Wh- questions
1.What's this? (Noun phrase answer) 2.What colour is this? (Adjective answer) 3.Where's the NOUN? (Locative answer)
****************************************************
Elementary (adults 15 years +)
Reading, Writing, Speaking and Listening at the elementary level.
SEQUENCE FOR INTRODUCING THE GRAMMAR OF ELEMENTARY ENGLISH:
E.Plurals
1.This/These and That/Those
2.Pronunciation of plurals
a) Voiceless final = voiceless /s/
b) Voiced final voiced /z/
c) Syllabic /ez/ required of nouns ending with /s/, /z/, /s/, /z/, /ts/, /dz/:churches,classes.
F. Other pronoun subjects: he, she, you, etc. (Topics: professions, work, jobs.)
G.Possessive + noun: John's book
H.Telling time & weather Include variations in expressing time before and after the hour.,
1.ten to six vs. ten before six; five past four vs. five after four.
2.International time form
I. Non-count nouns: homework, information, milk, ink.
1.Non-count nouns often classify a group of count nouns furniture/chair, sofa equipment/computer, microscope,
2.Topics: food, things found in different rooms in a house.
****************************************************
Intermediate (adults 15 years +)
Reading, Writing, Speaking and Listening at the intermediate level
SEQUENCE FOR INTRODUCING THE GRAMMAR OF INTERMEDIATE ENGLISH:
J. Present continuous: be + -ing
1. Introduce verbs that can be either intransitive or transitive: study, read, bum.
2. Introduce statement, questions and negative forms
K.Planning future: present + be + going to: I am going to go to the beach tomorrow.
II.HABITUAL (OR RECURRING) PRESENT: She drinks tea.
A.Note third person singular "-s".
B. Review voicing (I. E).
C. Teach question and negative forms.
III. SIMPLE PAST
A.Rules for pronunciation: /t/d/ed/
B. Tense carried by "did" in questions and negative:
1. He ran home.
2. He did not run home.
3. Did he run home?
IV. IRREGULAR VERBS
A. Teach them in sets of similar formations:
1. All three principal parts the same: quit quit quit
2. Last two parts the same: have had had
3. All three parts different: go went gone
V. BEGIN TEACHING MODAL'S (and never stop!! ) can, could, shall, should, may, might, ought.
****************************************************
Advanced (adult 15 years+)
Reading, Writing, Speaking and Listening at the advanced level.
Once completed, the student should be able to do well on the I.E.L.T.S. exam.
SEQUENCE FOR INTRODUCING THE GRAMMAR OF ADVANCED ENGLISH:.
VI. PASSIVE VOICE: be + past participle (third principal part) The ball was hit by the boy
A. Introduce, passive in all tenses.
B. Introduce statements, questions and negatives.
VII. PERFECT TENSES
A. Present perfect: I have seen that movie.
B. Present perfect progressive: I have been studying English.
C. Past perfect: I had heard of him before.
D. Future perfect: I will have been here 2 years in May.
VIII. CLAUSES
A. Independent clauses
1. Simple sentences: She went to work.
2. Compound sentence (two independent clauses joined by a coordinating conjunction): She went to work, and he went to the market.
B. Dependent clauses
1. Complex sentences: independent+ dependent
A. Relative clauses
i) Who, whose, whom, which, that
ii) Restrictive vs. non-restrictive
B. Adverbial clauses
i) Time
ii) Place
iii) Reason
iv) Manner
2. Compound-complex sentences
3. Conditional clauses
****************************************************
*****************************************************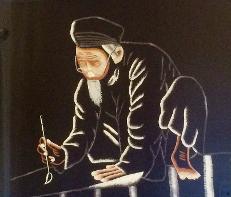 ****************************************************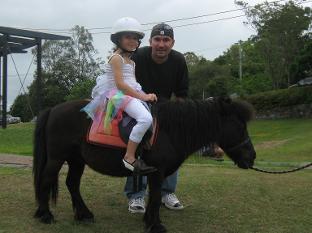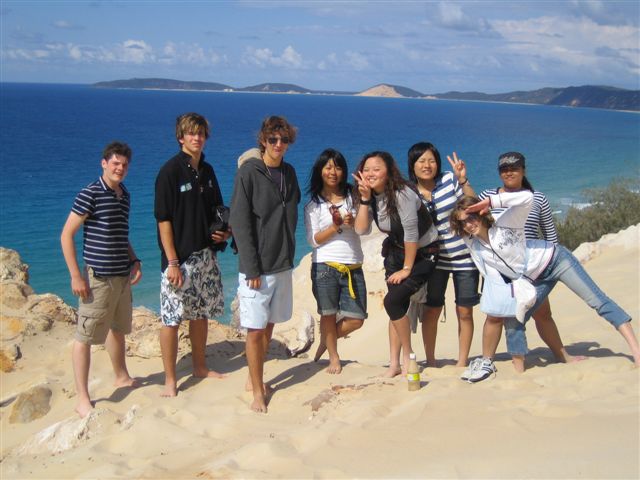 ESL Students at Rainbow Beach, Australia
****************************************************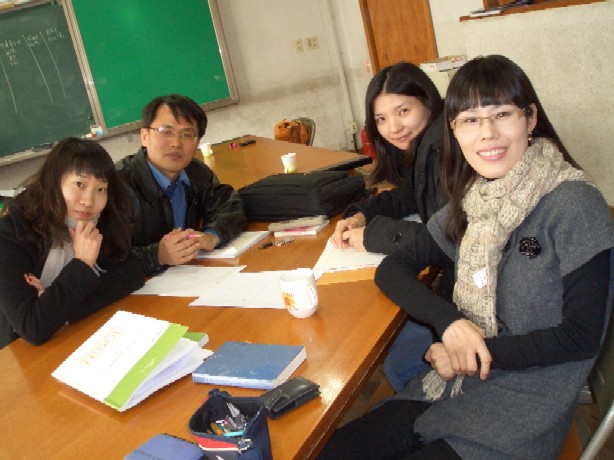 TESOL Course for S. Korean ESL Teachers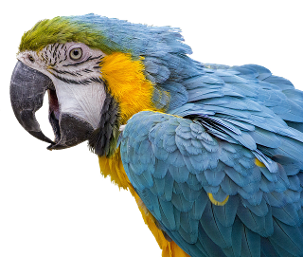 ****************************************************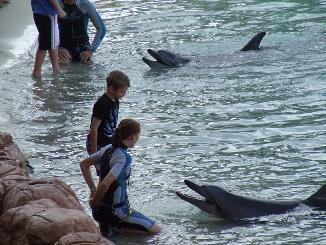 Australian Dolphins Learn English
*****************************************************